Fresh Mind Ideas reaches a significant milestone as we celebrate our 5th anniversary, bringing our FaMIly together in joyous unity. In a short time, Fresh Mind Ideas has emerged as a leading force in India's digital marketing industry. Today, we proudly mark 5 years of unparalleled achievements. This noteworthy event demonstrates our strong dedication to excellence and assures that Fresh Mind Ideas Pvt. Ltd. is prepared for even greater success in the future.
Celebrating 5 Years of Fresh Mind Ideas: A Milestone of Excellence
On June 18th, 2018, we fondly remember the day Fresh Mind Ideas officially became a Pvt. Ltd. company, marking a special moment in our history. Coinciding with Father's Day, this anniversary celebration brought additional joy as our CEO and Founder, Mr. Ajay S Nair, celebrated with his dream company, which he affectionately refers to as his "first baby." Ajay's vision of establishing an expert Branding & Digital Marketing company had become a reality, thanks to his vision and the exceptional talent and dedication of our team, whom we proudly consider our 'FaMIly.' Together, we have successfully completed numerous projects in India and abroad, earning recognition as one of the Top 10 Promising Digital Marketing Companies in India.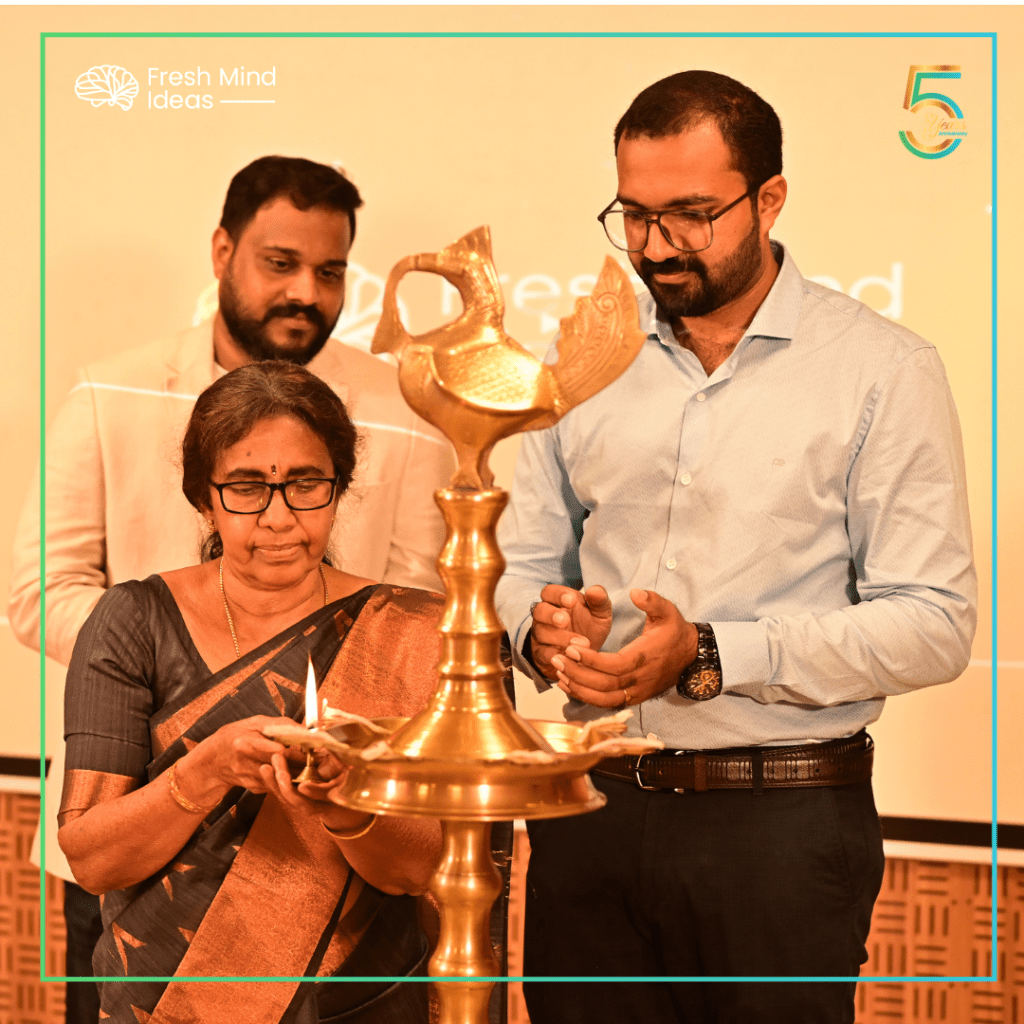 Coming Together for a Grand Celebration: Honoring 5 Years of Success
Although our team currently works remotely, we seized the opportunity to gather everyone—team members, families, mentors, and friends—for a grand celebration of our 5-year anniversary. The atmosphere was filled with joy and excitement as we reunited in person, eagerly anticipating the official festivities. We were fortunate to have Hotel Karthika Park in Kazhakootam, Trivandrum as our venue, providing the perfect setting for our special day.
The celebration commenced with a serene prayer, setting a harmonious tone for the rest of the day. Ajay S Nair took the stage and addressed the guests and team members with sheer happiness, reflecting on realizing his dream. What made this celebration even more extraordinary was the presence of those who played pivotal roles in his journey—mentors, family, friends, and team members—all joining to make this anniversary truly special. The atmosphere was filled with a sense of togetherness and gratitude.
Ajay expressed profound appreciation to everyone who had accompanied him on this remarkable journey and shared heartwarming stories about the beginning of Fresh Mind Ideas. He also announced five incentives for our dedicated employees as a reward for their hard work and unwavering loyalty.
Nikhil Samuel, the Business and Digital Marketing Manager of Fresh Mind Ideas, delivered a warm welcome speech, extending greetings to all the esteemed guests and team members. This set the stage for the distribution of certificates and mementos to honor our team members' outstanding work and contributions.
Recognizing Outstanding Contributions: Honoring the Team Behind Fresh Mind Ideas
Firstly, we acknowledged the web team, the brilliant minds behind the technical aspects of our company. Brajesh C Kaimal, Co-founder, and Director of Experion Technologies, presented their certificates and mementos, sharing insights about our company and his enduring relationship with our CEO.
Next, we celebrated the digital marketing team, the driving force behind our successful strategies and campaigns. Bobbit Thomas, CEO of ITruth Solutions, presented their certificates and shared heartfelt words about our company's achievements.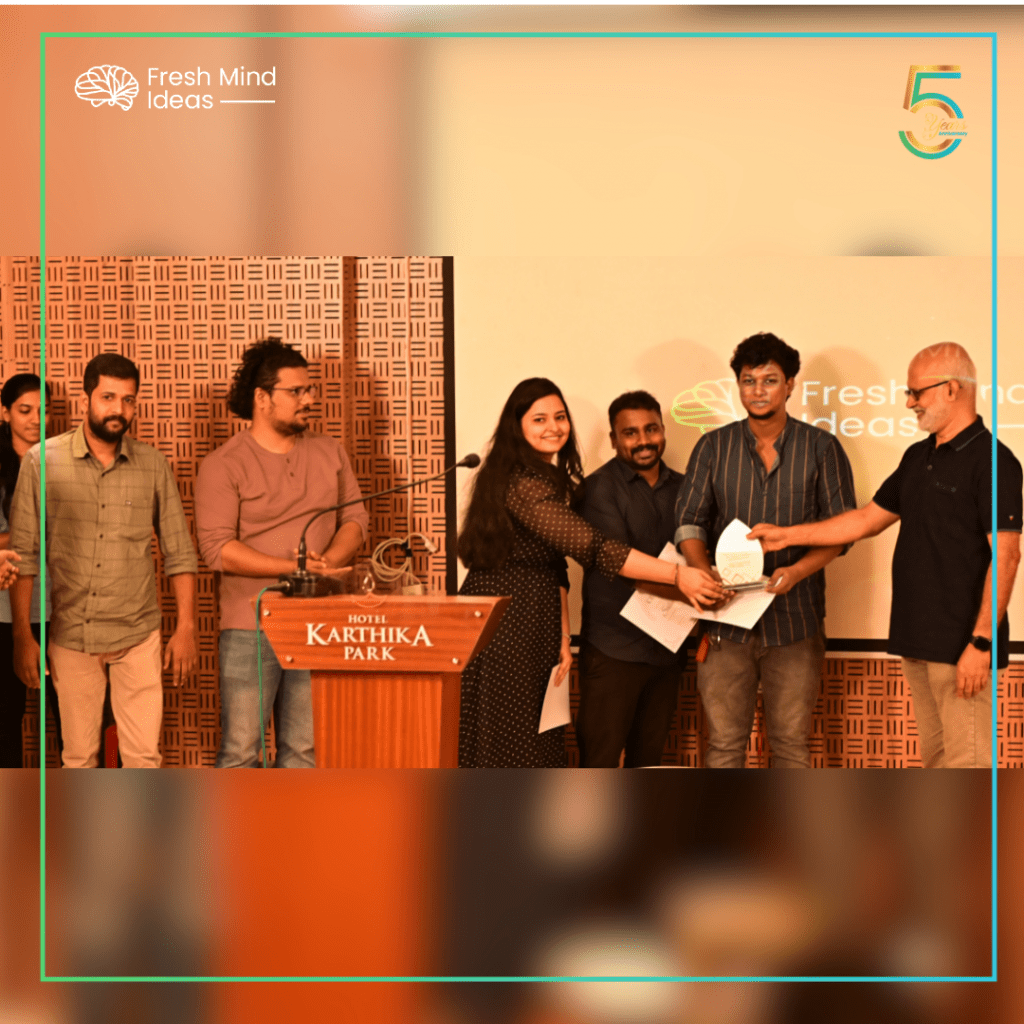 Last but certainly not least, we honored the design team, whose creativity brings to life the remarkable works that distinguish Fresh Mind Ideas. Abhinand V Nair, CEO of A Team Soft Solutions, and Archa Arun, CEO of Neonicz bestowed their certificates. Abhinand beautifully compared our CEO to the father of our company, emphasizing the crucial role played by our team members in fostering growth and consistency.
Arun, Director of Neonicz, also joined in, offering insights into the incredible journey that lies ahead as we celebrate this significant five-year milestone. We are immensely grateful for the presence and support of the esteemed members of the Kerala Startup Mission: Ashok Kurain Panjikaran, Arya, Vishal Kadam, and Krishnakumar who attended our event upon our invitation. Also special thanks to Sarath, Adhun, and his family from AWSM Innovations for joining our celebrations.
After a delightful and elegant lunch, we all gathered for a lively photoshoot, capturing cherished memories and engaging in heartwarming conversations with friends and colleagues. Each team member had the opportunity to share their experiences, highlighting the incredible work-life balance and friendly environment at Fresh Mind Ideas, where we truly feel like a family.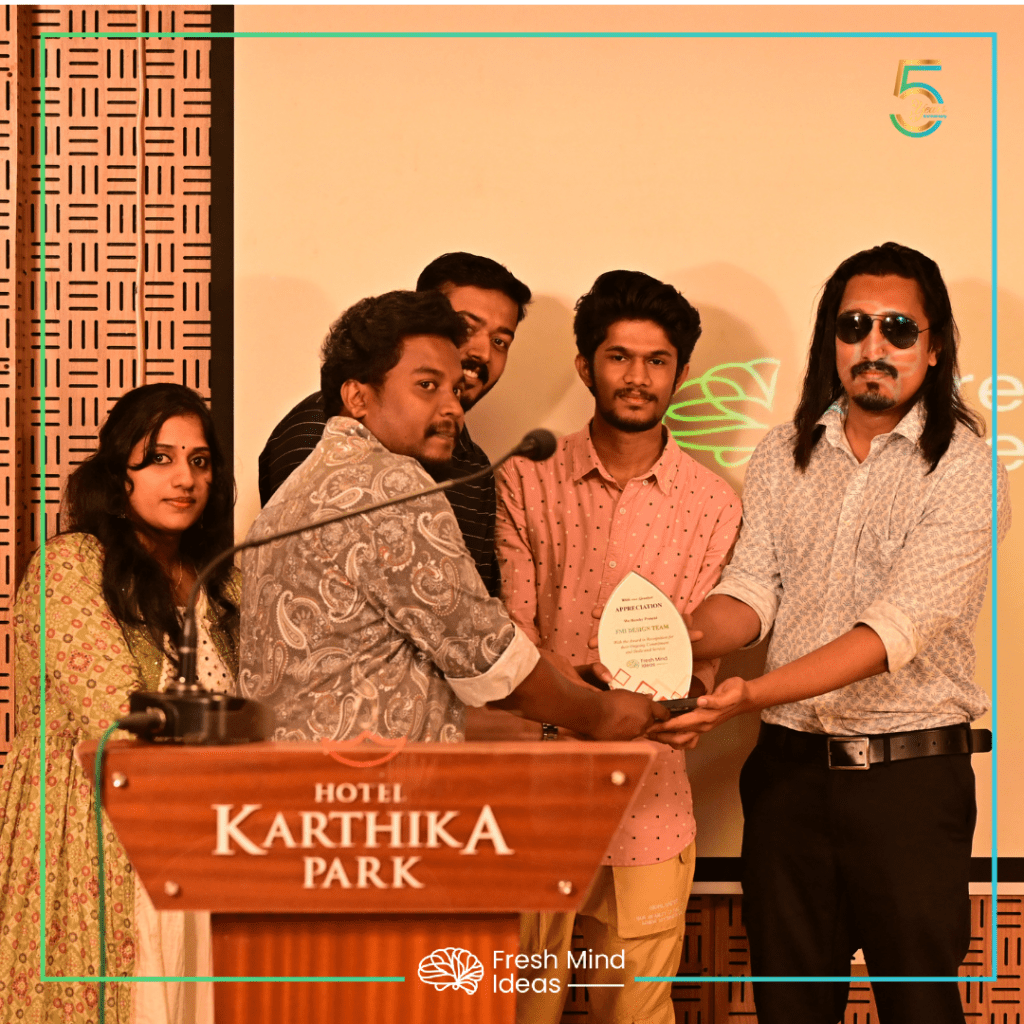 A Thriving Work Environment: Where We Work as a Team and Live as a FaMIly
The anniversary celebration evoked an overwhelming sense of pride and belonging in each one of us. Witnessing the happiness on our teammates' faces and sharing our love for the company solidified our belief that we collectively contribute to the growth of Fresh Mind Ideas. We are privileged to be part of an environment where we not only work as a team but live as a FaMIly—an ideal working environment. Here's to many more years of success, happiness, and growth as we continue our remarkable journey together. Cheers!