Unity Infotech has been building much mission-critical banking and financial solutions for more than a decade. Unity Infotech approached us to re-brand their business as they reached their 10th anniversary. We have helped them for creating a fresh logo to updated typography, color palette, and overall brand identity. We have also created a brand-new website in WordPress CMS to make sure the brand message is delivered equally throughout all the platforms.
THE CHALLENGE
Though Unity Infotech has a website and logo, they felt it needed to upgrade and position as a brand on their 10th anniversary. They challenged us to create a new Logo Design, Branding, Identity Design, Calendar Design, Copy Writing and Redesign their website in a way that caters to their philosophy and to take them to the next level. Their previous site wasn't matching with the identity and haven't featured detailed of their capabilities nor it tell the detailed company's story. They wanted meticulous re-branding that could influence customers' perception and make them believe that the brand caters to their needs. The challenge here was to keep it simple and enticing.
INSIGHTS
Unity Infotech has 10 years of experience serving as the trusted strategic partner for banks & financial institutions of all sizes. Unity Infotech is renowned for our innovative and user-friendly financial solutions. They help their clients to stay ahead of emerging business trends and outperform the competition by simplifying their systems and business processes. They empower businesses with payment solutions, IT staffing services, software consulting services, and more.
Changing trends in the financial industry, evolving business models, technological innovation, & modified regulations are some of the main challenges which the banks & financial institutions are facing today. Accordingly, their customers also demand a personalized experience to interact and transact. The experience gives their clients a distinct advantage. Established in 2009, Unity Infotech has many financial products developed & implemented successfully to its credit, by thoroughly understanding the present & forthcoming industry regulations. Their solutions for payments are mission-critical. Many of the banks, finance, and exchange houses across the Middle East rely on our highly scalable software solutions that offer seamless integration.
OUR APPROACH
The creative approach of re-branding for digital agency set off with brand strategy, logo redesign. It started with brainstorming and analyzing the client's vision of a new symbol.
When all the tasks were considered & the direction was chosen, the designer started the creative process. The pencil sketching technique was applied to quickly visualize the first ideas on the paper. Such an approach allows for picturing various concepts without significant efforts and within a short time. Moreover, sketches make communication much more effective in helping clients and managers to understand designers' ideas. Also, if clients want to make some changes, it's much easier to make them. At this creative stage than in a digital version with elaborate details.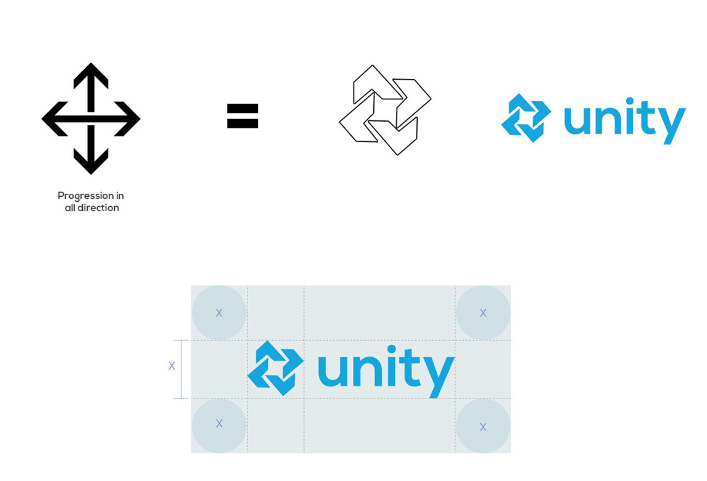 Simple geometric shapes are elegant & transparent so they are pleasant to our eyes. Considering all the aspects, the designer has created several variants in an abstract style.
Unity Infotech team liked the logo design which progression in all directions. The designer moved to the next stage which requires working with colors and polishing the details.
The light blue color gave the feeling of stability & made the logo more modern-looking which responded to a current brand strategy.
SOLUTIONS
We worked closely with the Unity Infotech team, to properly represent their company. Our teams worked together to create an updated logo and a new website which is based on the logo design and also we have created designs works like Identity Design and Calendar design with fully optimized content and image-forward. Our team worked towards providing a better website user interface that looked professional while the navigation and ordering process made seamless for customers.
The new logo played on the brand's recognizable blue, but utilized sharper lines and a strong font to convey the company's values—integrity, quality, and an unrelenting commitment to clients. The website focused on Unity Infotech quality and professionalism, as well as featured projects that highlight the scope of their work. Overall, Unity Infotech's new site emphasizes their local connection, projects big and small, and their commitment to quality concrete.
STRATEGY, TECH & CREATIVITY
Our brand strategy sessions position a client to begin considering the structure of their website. The tone of all internal & external communications, & the visual identity will appeal to their target audiences.
We helped UNITY for creating a fresh Logo design, Re-branding, Stationery design, Business card design, Calendar design, T-shirt design, Marketing collateral design, Website designs, and development.
Watch more Images Here: https://www.behance.net/gallery/83256777/Unity-Infotech-Solutions-UAE-REBRANDING
TESTIMONIAL
Rajesh Mohan, Co-Founder & Managing Director, Unity Infotech

"On the 10th year of Unity, we have decided to Re-brand our company and we decide to associate with Fresh Mind Ideas. They have been good with us and partnering with them was a great experience. It helped us to give a fresh look to our brand."
Watch the Webproject details here: Unity Website Re-Design
---
Liked the project? Let's talk…