Approximately, 2-3 decades ago, people began complaining about hair loss only after they reached their fifties and sixties. Age is now merely a number in today's society. Young or old, it doesn't matter. Even those who are in their late 20s, early 30s, or 40s complain about hair loss or significant hair loss. There are many factors that can cause hair loss, but stress, tension, pollution, and genetics are some of the most common causes. This results in low self-confidence, which makes you feel like you can't stand out among the crowd. When searching for a solution, many people turn to hair transplantation as the only hope they have left. With time, hair transplant treatment has become a popular solution for people to regain their self-esteem and confidence. An expert hair transplant clinic cannot fill the void created by such huge responsibilities. The hair transplant marketing company strategies also need to be geared towards helping them reach their target audience within a short period of time with minimal effort. It is crucial to understand how to promote the business of hair transplants if you run a hair transplantation clinic or you work as a digital marketing consultant. You should market your business using digital platforms to emphasize the most vital aspects of your treatment. Getting people to visit your website and implementing marketing strategies is one of the most crucial elements of a digital marketing plan.
1. An attractive website design for hair transplants
This is the first step towards digitalizing your hair transplant clinic. The online world requires a website for the hair transplant business. Without a website, a hair clinic fails to explore online opportunities to get more patients. You can also grow your business through other digital marketing platforms; however, your website has the greater power to reach your targeted audience than any other digital advertising channel. For online patients searching for your clinic, your website is like the virtual address of your clinic. Although you can advertise anywhere on the internet such as social networking sites, Quora, article submission websites, YouTube, your website will be the center. Whenever someone clicks on an advertisement anywhere on the internet, they will reach your website.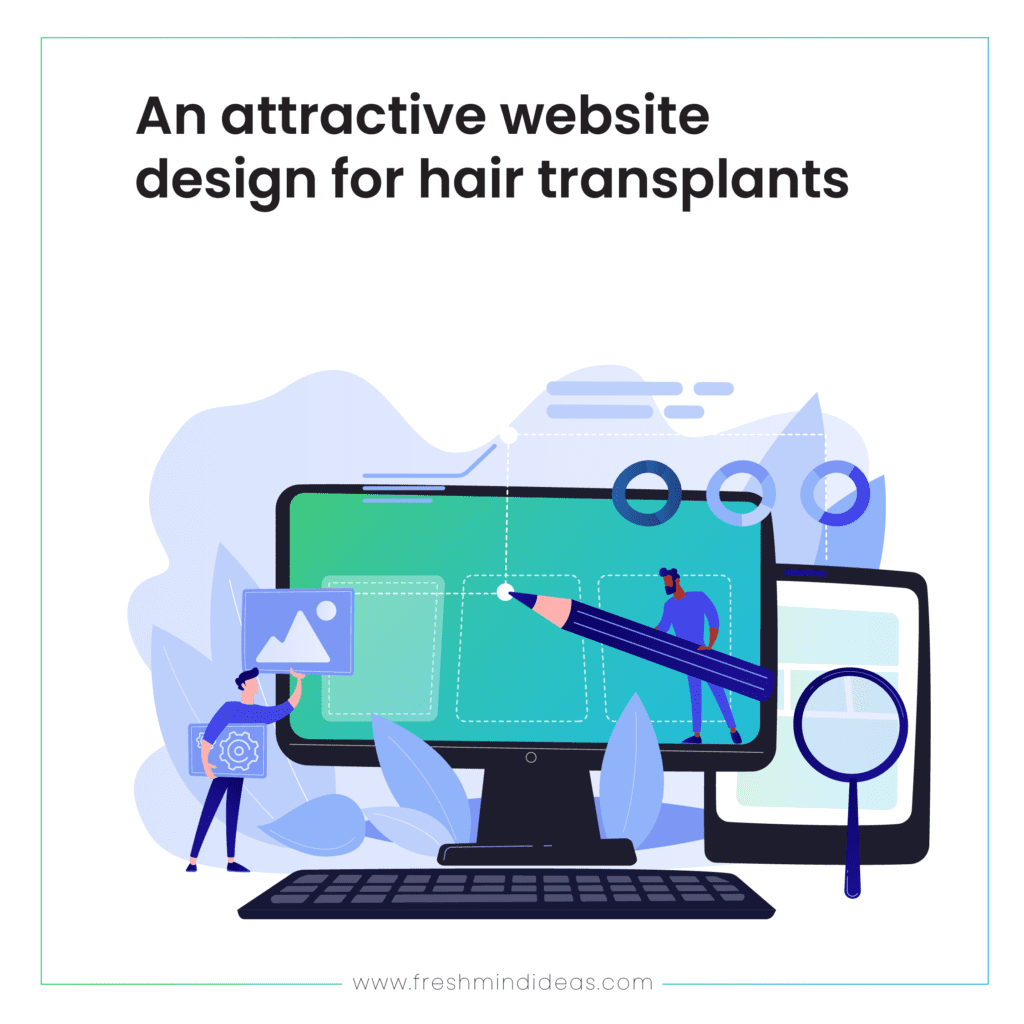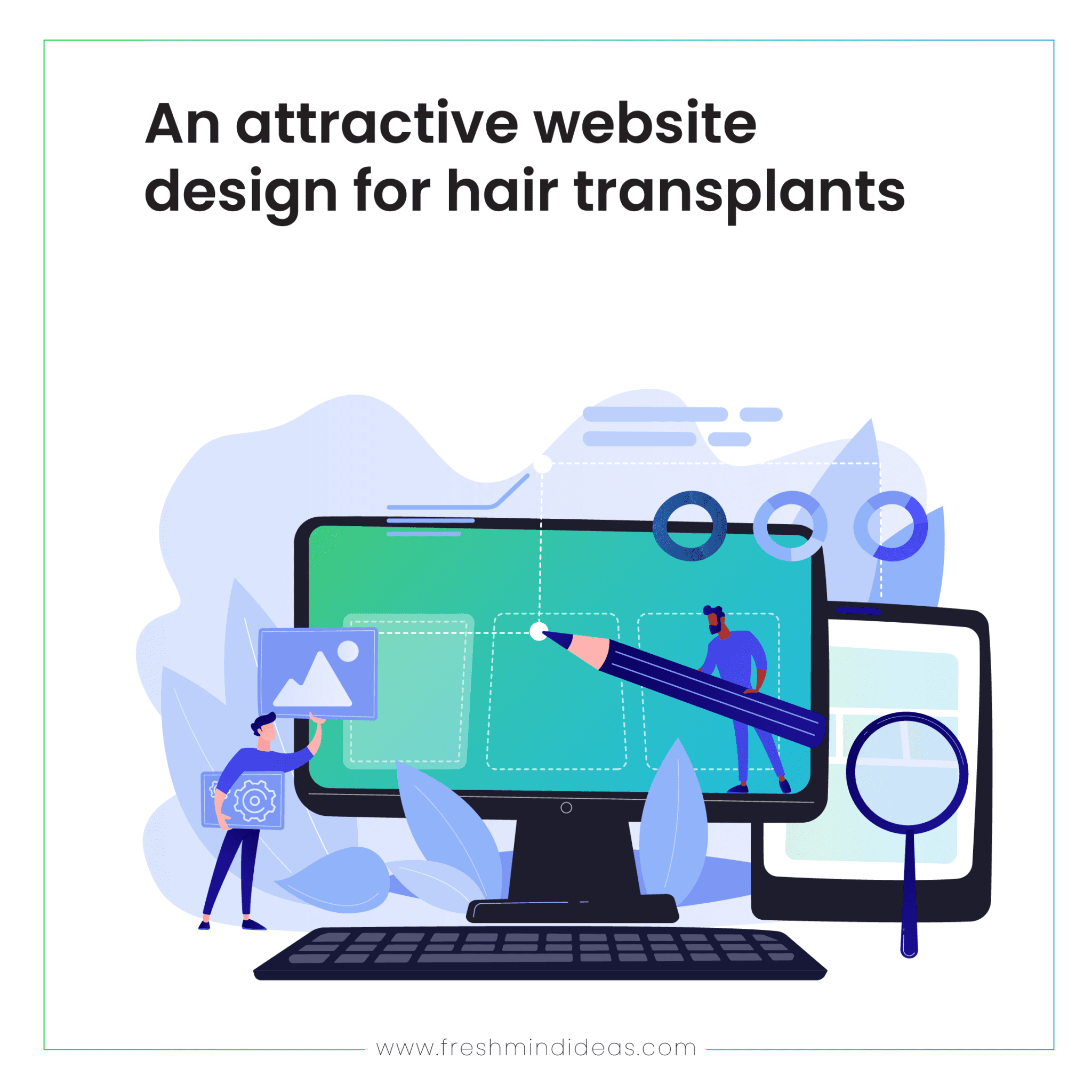 How should a hair transplant website be designed?
It is necessary for a hair transplant business to have a well-designed and informative website. Dynamic websites allow you to upload almost any type of content on your website such as videos, images, text, etc. Your brand's reputation is enhanced by the integration of social websites. Detailed explanations of the results of all the treatments and before and after patient testimonials in an attractive menu bar. The slider images in a website should be high quality to attract maximum traffic. Include an introduction and contact form, describe all services in detail, add a few before and after images, show videos of patients' testimonials, include map directions, and include contact information. Visitors to your website will be able to learn more about your clinic and its culture, performance, behavior, doctors, and the hair transplant cost by watching video testimonials of previous patients. You'll be able to better understand things when you view video testimonials.
Got a project? Let's talk.
2. Using Facebook and Instagram to boost brand awareness
By using social media networks such as WhatsApp, Instagram, Linked In, Facebook, Pinterest, and Twitter, the promotion of hair transplant services can be easily, quickly, and at an affordable price. Social media usage by more than half the population is about 4 to 6 hours each day. Digital marketing tools for promoting hair transplants are social media marketing tools. Using social media sites such as Facebook, Instagram, Twitter, and LinkedIn will help you to promote your business. In the form of attractive GIFs, Graphics, Short Videos, and Content share your hair transplant procedure, techniques, before and after results, and testimonials of patients.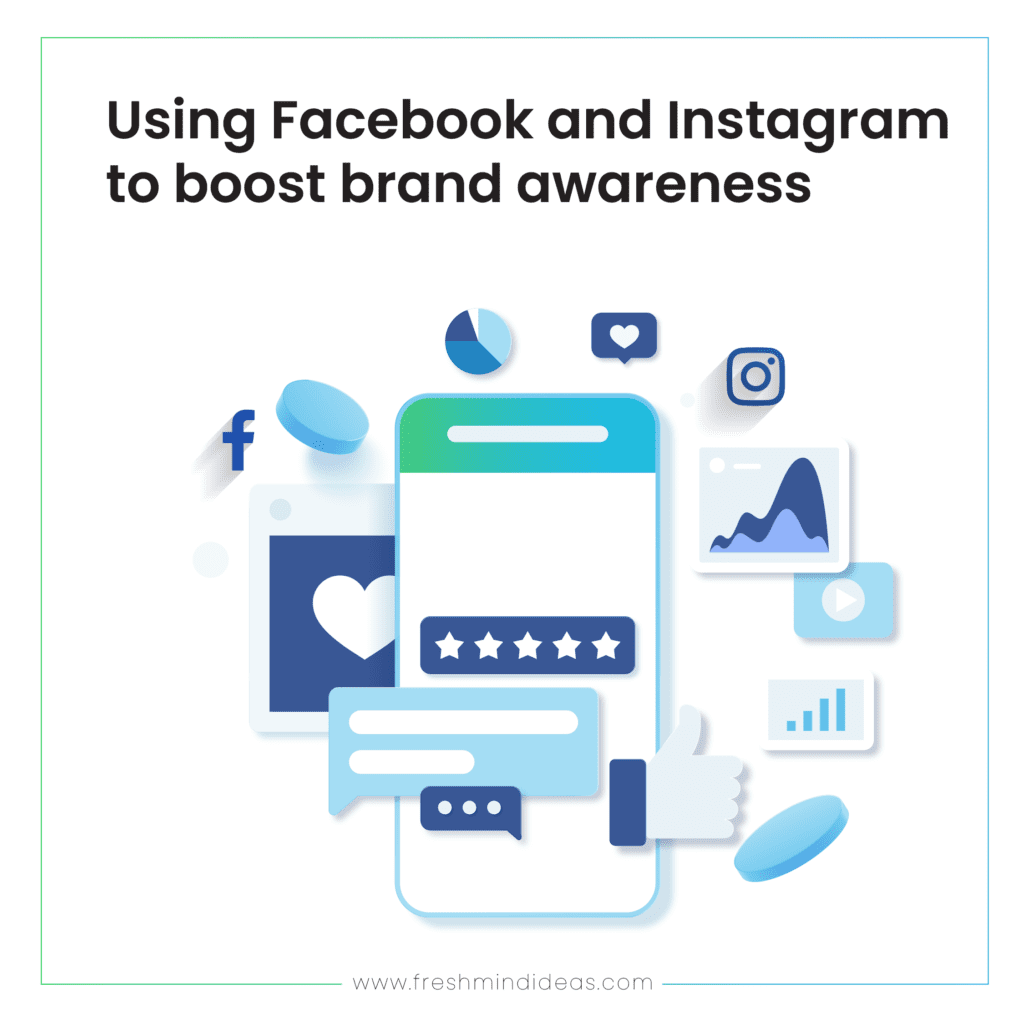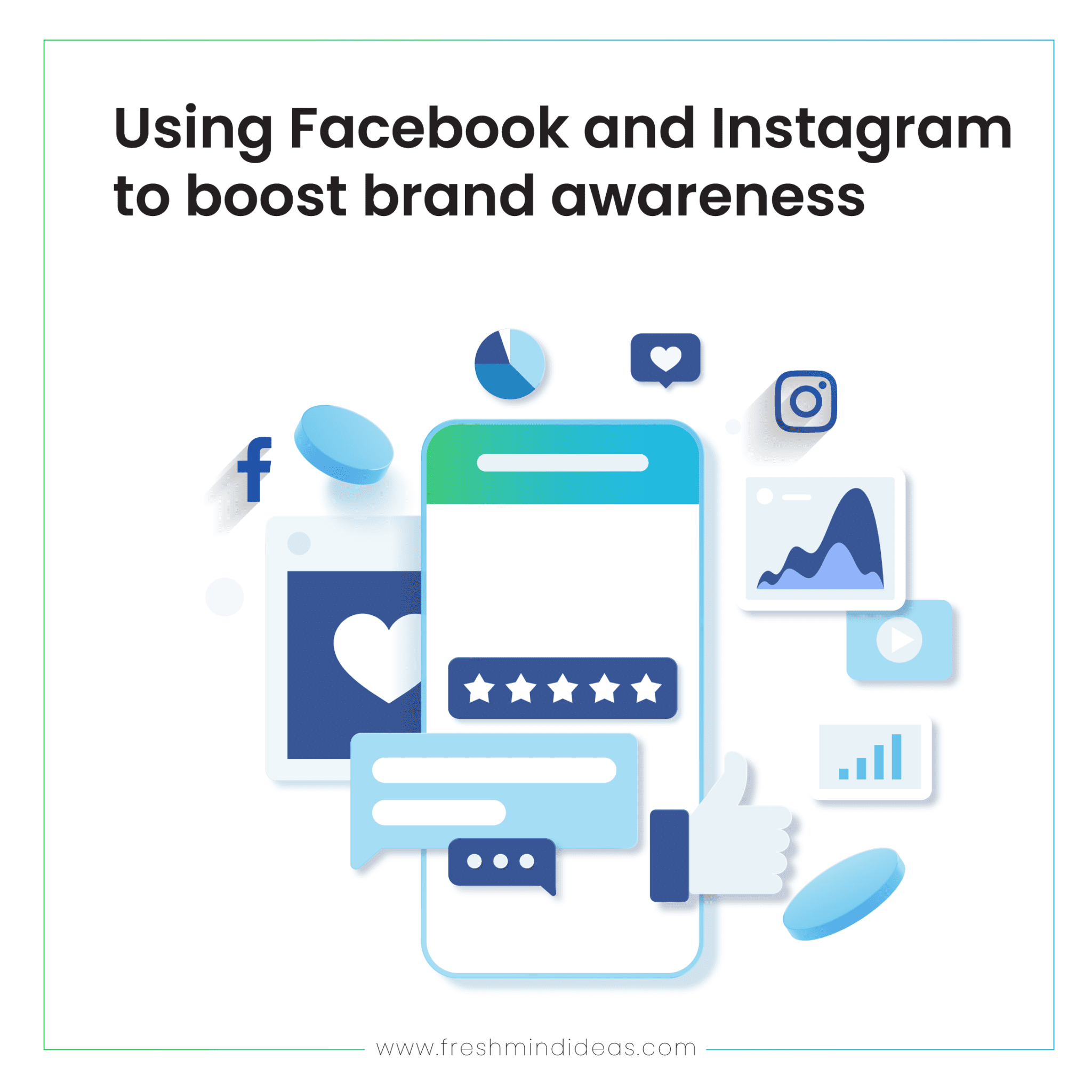 Generating qualified leads through social media is a great choice. You can get quality hair transplant leads by using social media such as Facebook, Instagram, and LinkedIn. Aim to target audiences with high incomes and higher profiles for hair transplantation, since average-earning people are not interested in hair transplants because of the cost. For better results, you can consult a social media marketing agency for hair transplant clinic.
3. Relevant traffic can be increased with SEO services
The quality and quantity of traffic to your website can be increased with search engine optimization. SEO plays a crucial role in hair transplant websites. Quality leads are converting into patients at a higher rate. In addition to on-page SEO, off-page SEO also enhances audience interaction. A good SEO expert knows exactly what it takes for good SEO. You do not know the name of your clinic for those seeking hair transplantation.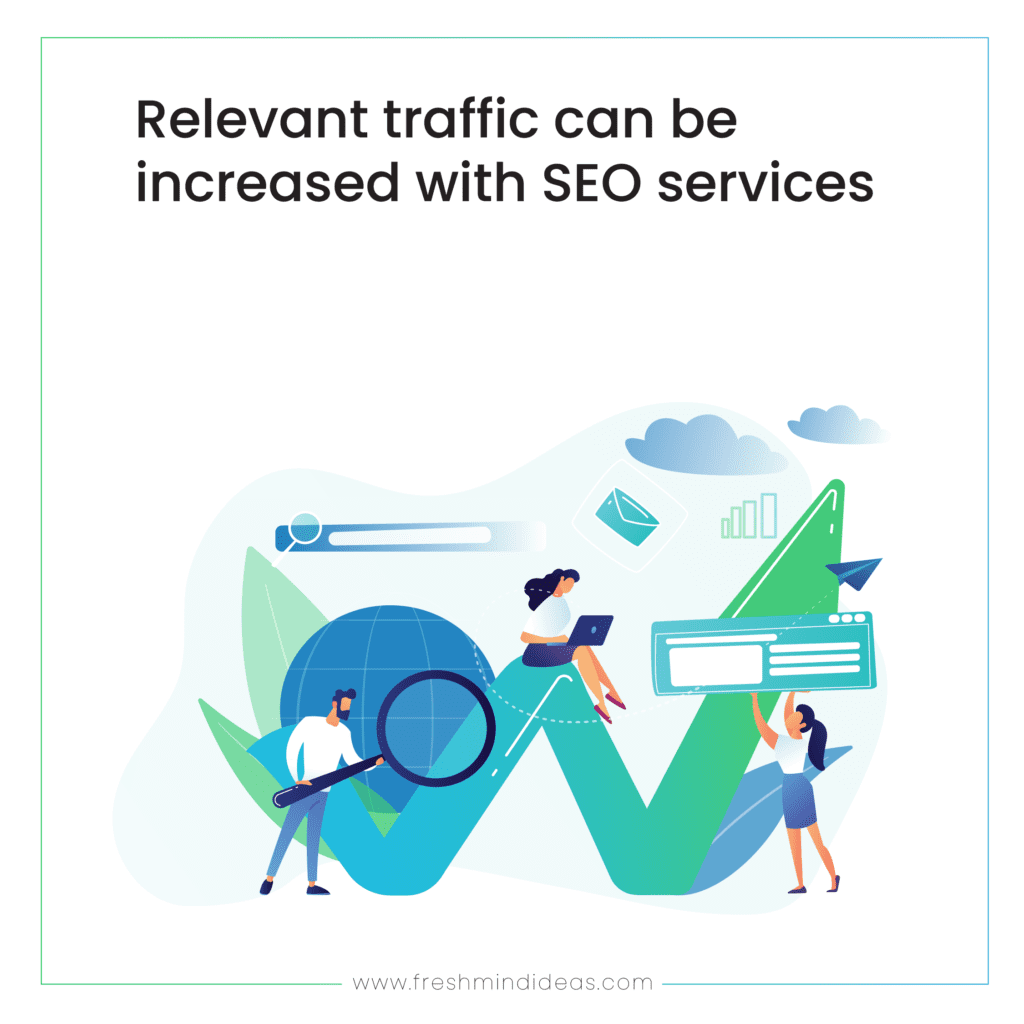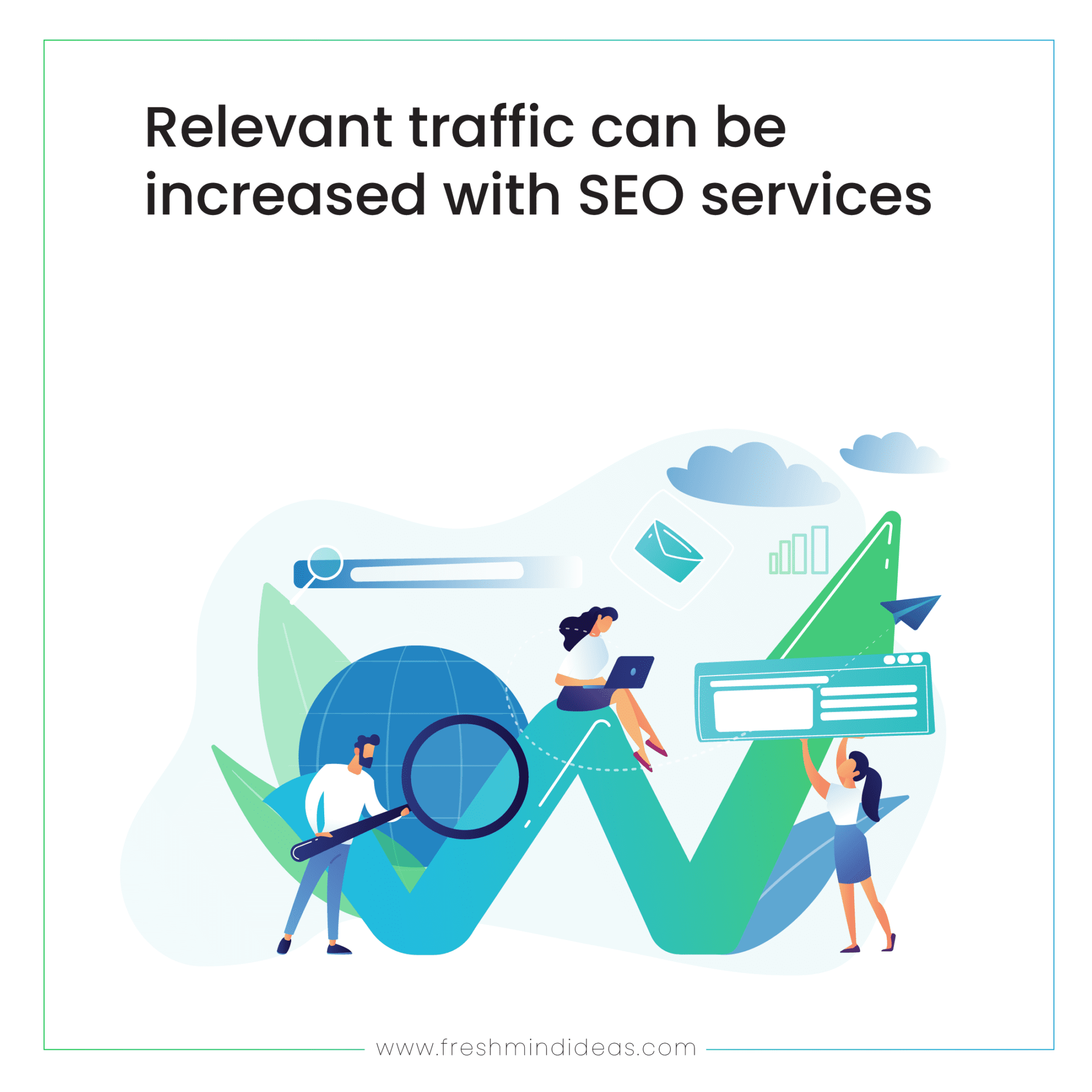 There may be many people who look up to you like the best hair transplant surgeon. However, without an online presence, a small number of people will find out about you. You can get your website ranked on Google's first page, where your potential patients are searching for your treatments. As part of digital marketing for hair transplant clinics, SEO is a lengthy process. A high-traffic keyword in the top position takes between 60-100 days to rank. For expert advice, you can consult an SEO agency for hair transplant clinic.
4. Get leads for hair transplants using PPC
Pay-per-click ads are ads in which the ad publisher receives a payment every time the user clicks on your ad on search engines or social media. Generating qualified leads by using this method is one of the most widely used and results-oriented methods. Hair transplant Google Ads are an extremely useful tool that tends to yield better returns for a business.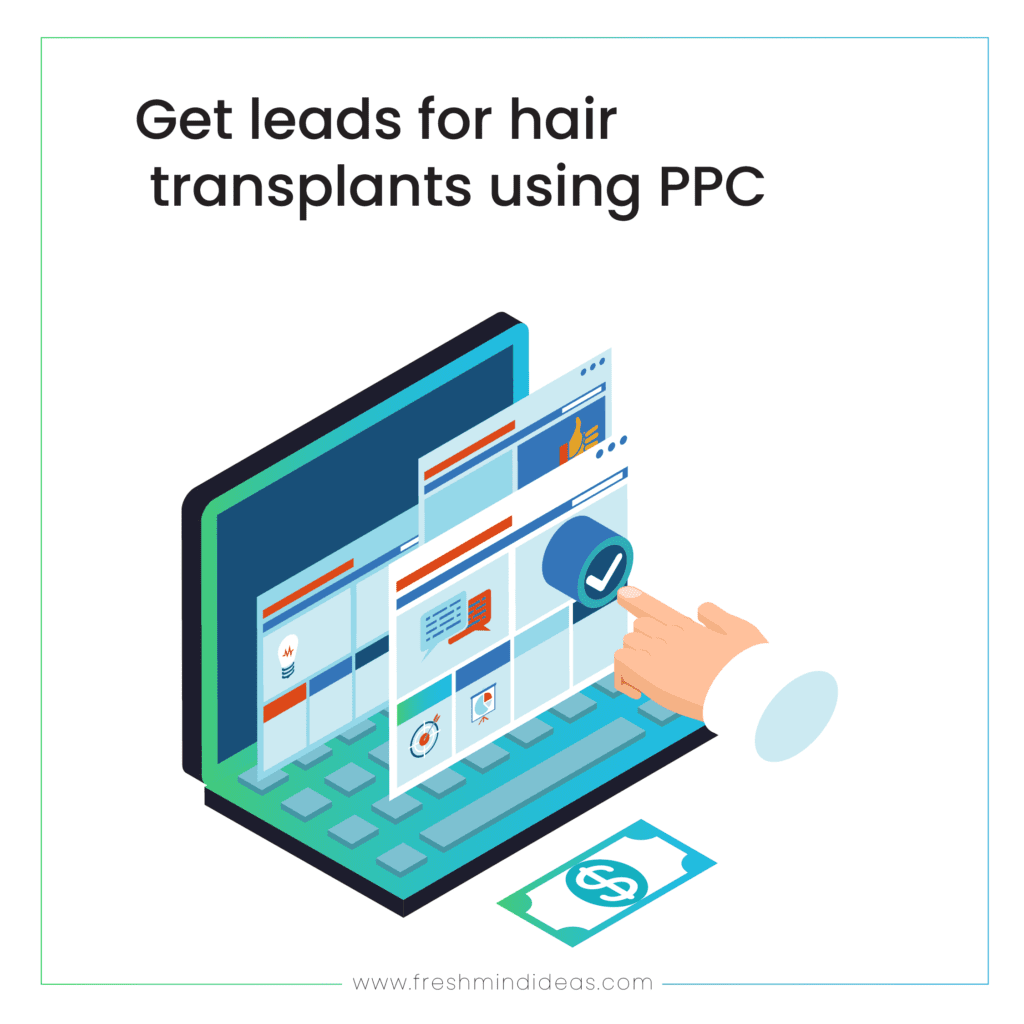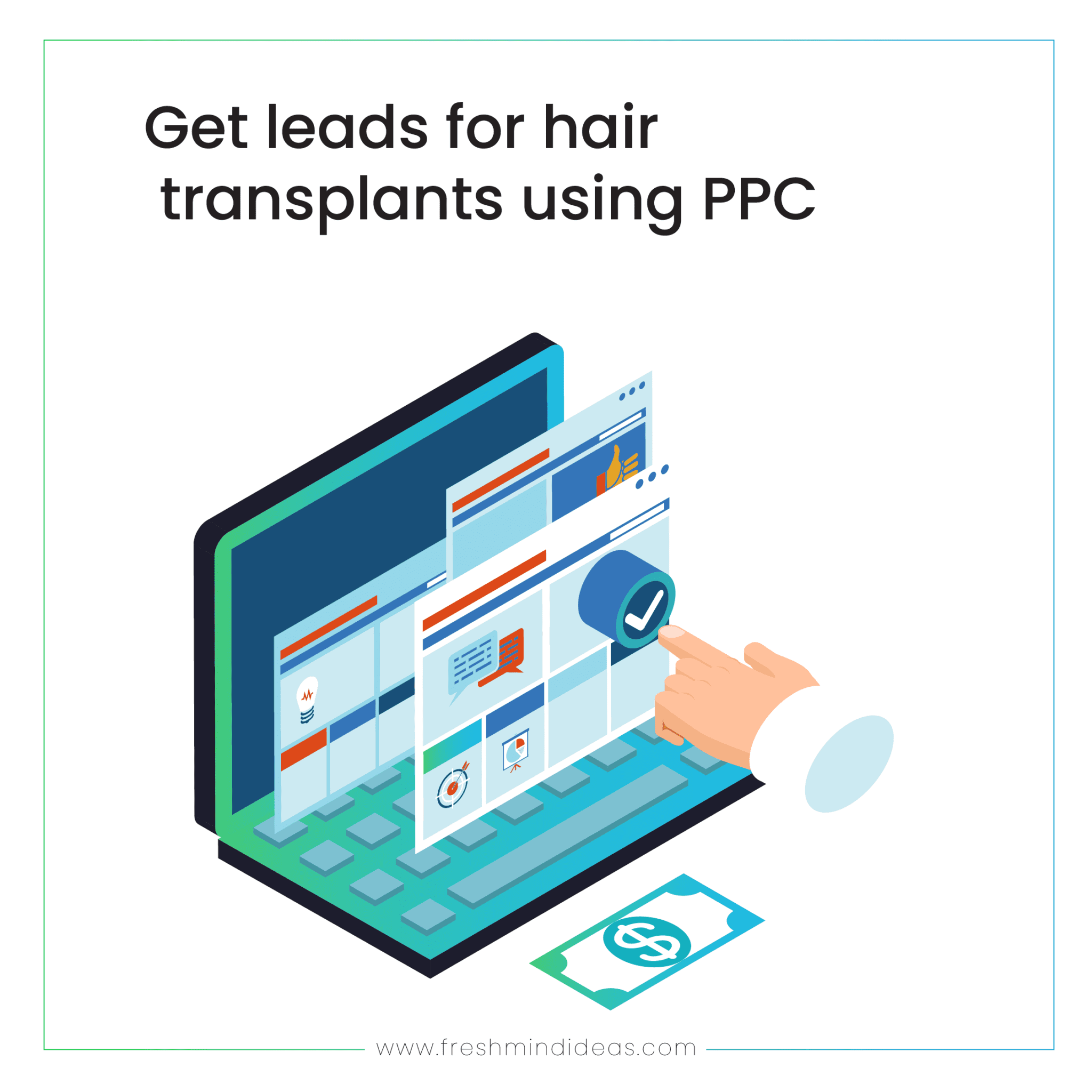 5. Video Marketing for Hair Clinics: Educate Your Patients
We are living in the YouTube and micro-video era. You are missing out on an important online marketing channel if your clinic channel is not on YouTube. It is not very user-friendly to read long texts on your blog or website. Everybody wants to watch everything now. In terms of search engine traffic, YouTube comes in second to Google. By having a YouTube channel, you increase the awareness of your brand. YouTube channel of hair transplant clinic has major advantages. Provide your potential hair transplant patients with information about hair transplants. Many people are afraid of the cost of hair transplants, so explain to them the factors influencing hair transplant costs.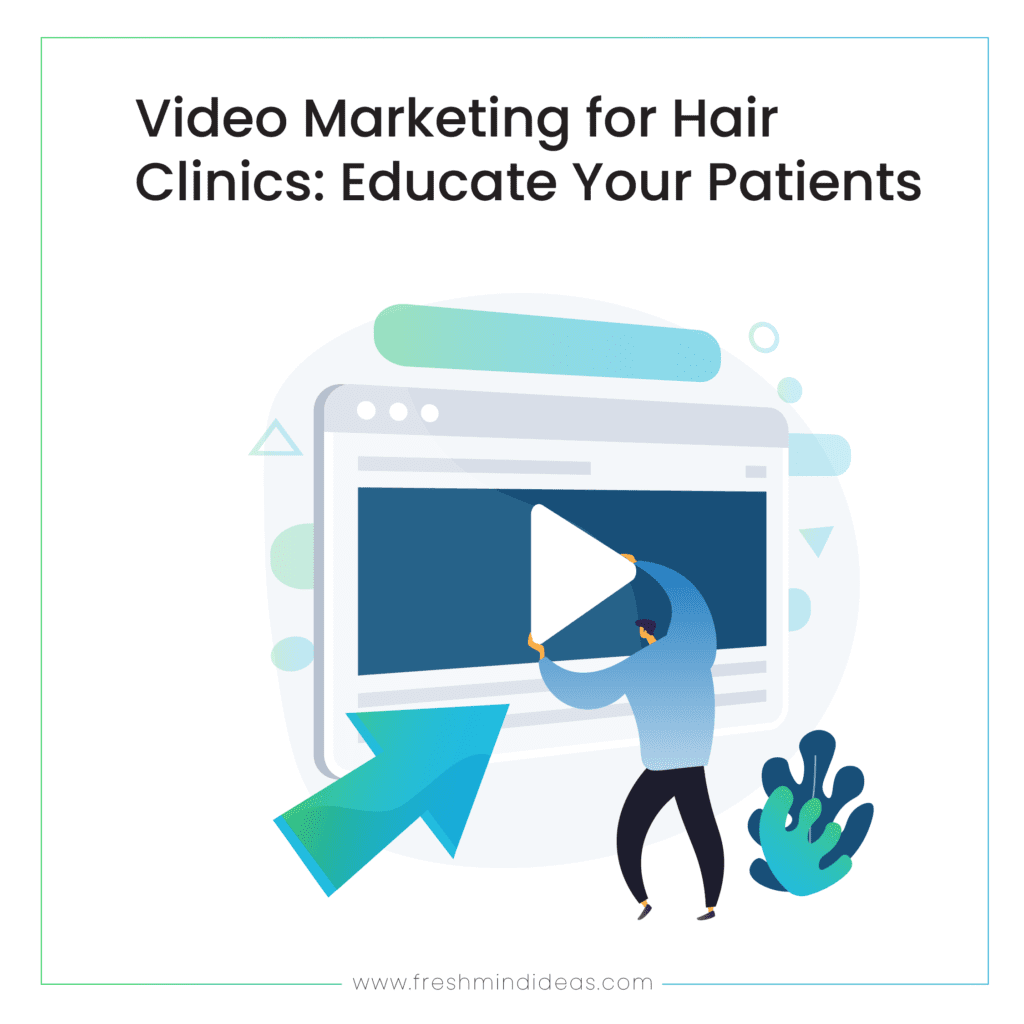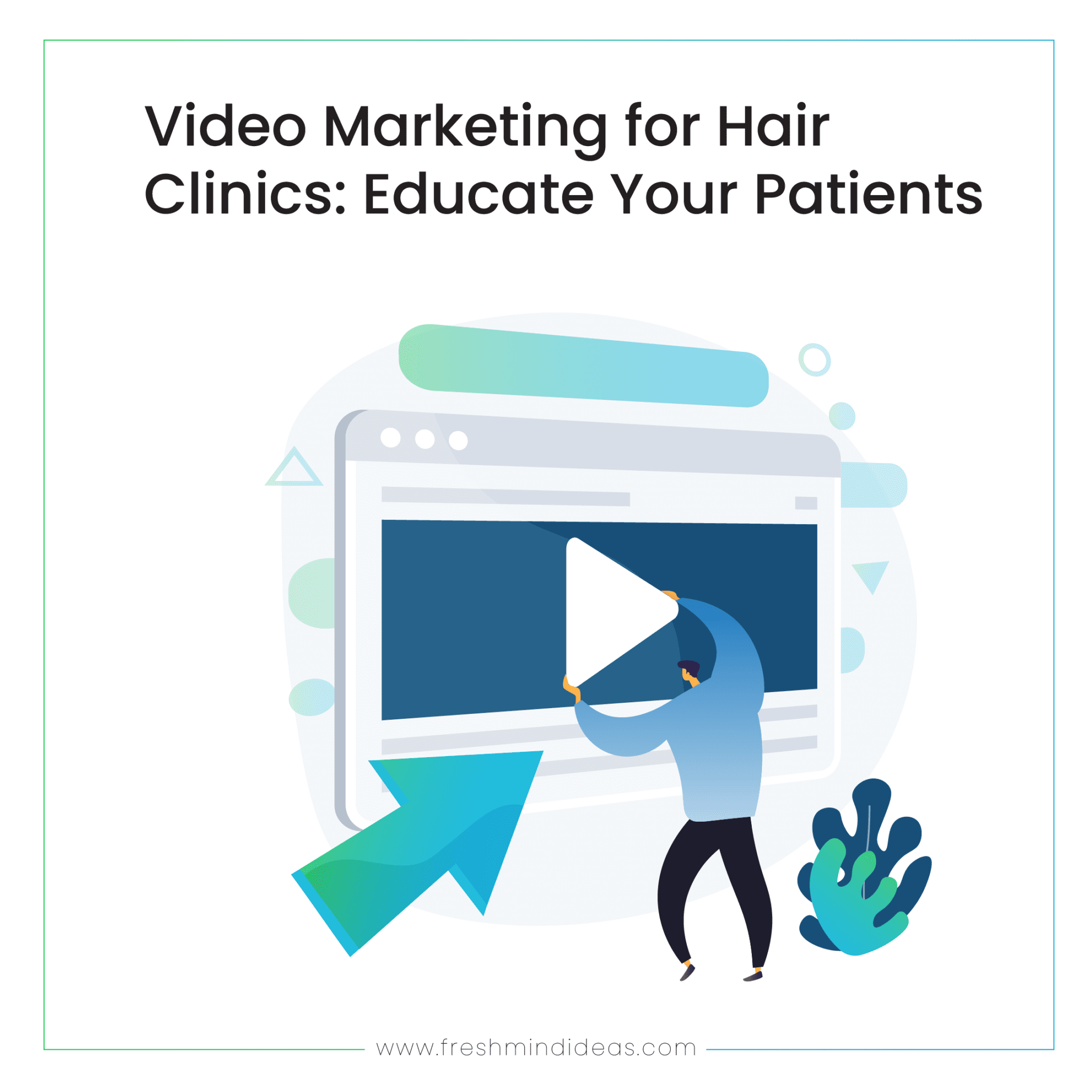 How should one prepare for a hair transplant? Is hair transplantation suitable for everyone? What is the cost of hair transplantation? How is FUE hair transplantation different from FUT hair transplantation? What is the PRP treatment? And so on. Your clinic and surgeon can be blindly trusted by an educated user. Particularly with hair transplants, conversion is highest through video marketing.
Hire an expert
You must attract patients at every stage of your business if you are in the hair restoration industry. Clinics and hospitals need to strategize carefully before making the right decision. That is why you need a marketing strategy that helps you grab the attention of the patients, no matter where they are. They need to understand how the treatment is superior to other hair restoration choices.
Do you need help with your website optimization? best SEO company Bangalore will audit your location and provide a list of actions needed to take your site to the next level. Is there any additional need for your website?
Let us know in the comment section below.
Pay-per-click advertising has become one of the most effective digital marketing techniques for increasing traffic and generating leads.
You can target your ideal audience specifically and offer them the solutions to their health-specific search queries.
Healthcare businesses can boost their practices with PPC campaigns because millions of health-related topics are searched online. Many healthcare marketing agency Bangalore specializes in building PPC for hospitals.
Do you need help with your Branding/ Marketing/ Web development/ Animated Videos? Get in touch