It isn't a surprise that almost all businesses utilize social media platforms to advertise and promote their products and services. Keeping your business relevant in the crowded market space is essential to consider, and social media giants play a vital role in delivering content its users are interested in watching.
Social media organic posts are vital in any business, so the paid ads?
Facebook is the top choice for businesses to advertise and promote their products and services. With massive active users, Facebook undoubtedly stays one of the efficient social media platforms that can generate leads and sales for any business.
With robust advertising features, Facebook offers an excellent opportunity for businesses to explore and reach out to a larger audience worldwide. More and more businesses, no matter how small or established, rely on Facebook advertising to boost the growth of their brand.
Got a project? Let's talk.
Facebook Advertising Benefits
There are billions of active users engaging on Facebook every day. And launching a targeted ad on Facebook will increase your chances of getting in front of your prospects. You can micro-target your audience based on interests, demographics, behaviors, age, gender, and so much more. It improves the quality of your audience as targeting prospects who are most likely to be interested in what you offer is vital. And you can easily find new leads if you find a group that converts faster. You can also target a lookalike audience who are most likely to take the desired action.
Most businesses implement Facebook advertising as it is an effective way to boost brand awareness, drive traffic, and generate sales. It offers so many advanced features businesses can explore, and there is no doubt that it is one of the best ways to reach out to your desired audience.
Facebook Ad Mistakes You Might be Making and Need to Avoid
We already mentioned that Facebook ads are one of the best ways brands bring into their business to generate leads and sales. It can perform wonders if you do it effectively. However, Facebook ad mistakes are pretty common, and many ads fail at the end of the day. It might be challenging and confusing trying to figure out the reasons.
Here, you can learn about some of the Facebook ad mistakes you might be making and need to avoid. It's time to stop making mistakes and explore the true potential of Facebook ads.
1. Selecting the wrong objective
Ad Objectives have a vital role in generating results for your ad campaign and boosting ROI. Considering your business goals and knowing what you want to achieve from your ad campaigns is essential to selecting the right objective. Having a clear idea of the objective according to your goals from a Facebook ad helps you develop the right strategy.
Facebook has 11 objectives, and each focuses on particular goals. For example, if your purpose is to simply build an audience, use objectives like engagement, traffic, etc. Choosing the wrong one will waste your money and time, and you will end up with results that won't create any impact. So, you need to focus on objectives that can satisfy the immediate requirements of your business.
2. Poor Targeting
Proper audience targeting is crucial if you don't want your ads getting lost in a crowded space. Facebook allows you to laser-target the audience you want to show your ad to, and it has an immense impact on the success of your ad campaign. It is essential to understand who your audience is, and if you are targeting smartly, it allows you to reach out to the audience who are most likely to be interested in your product or services.
For example, if you want to run an ad for men's products, you don't want to deliver the ad to a female audience. Targeting the wrong audience or audience that is too broad will result in spending money on ads shown to an audience that is not interested in them. Try to be straightforward and narrow the audience as much as possible but not too much. You should set proper targeting to improve the effectiveness of your campaign.
You can use tools like the Facebook Pixel that will help you set up custom audiences, remarket your ad content to existing customers, and reach out to a lookalike audience who isn't aware of your brand easily.
3. Not Monitoring Ad Performance
Businesses often create new ad campaigns, but many fail to monitor their performance. Creating and launching an ad campaign isn't enough to achieve your goals.
Monitoring your campaigns is really important as it is not something you can just launch and forget about. You want to adjust it over time, but try to be patient at the beginning and give it a minimum of 3 days before making any changes. Long-term results take time, and you need to be patient to make adjustments, and the tweaks take more time to make any effect. You don't want to spend too much money and wait to see the results, but you have to be patient and have a long-term view. You should monitor the data and make needed tweaks. You should also ensure your ad's performance across various devices.
If you want to check your ad performance, you can use Facebook Ads Manager. From there, you will get insights into how your ad works and what changes you need to make for better performance. Check for relevant information such as reach, engagement, conversions, click-through rate, etc. It will help you make sure you are running an efficient and successful ad campaign.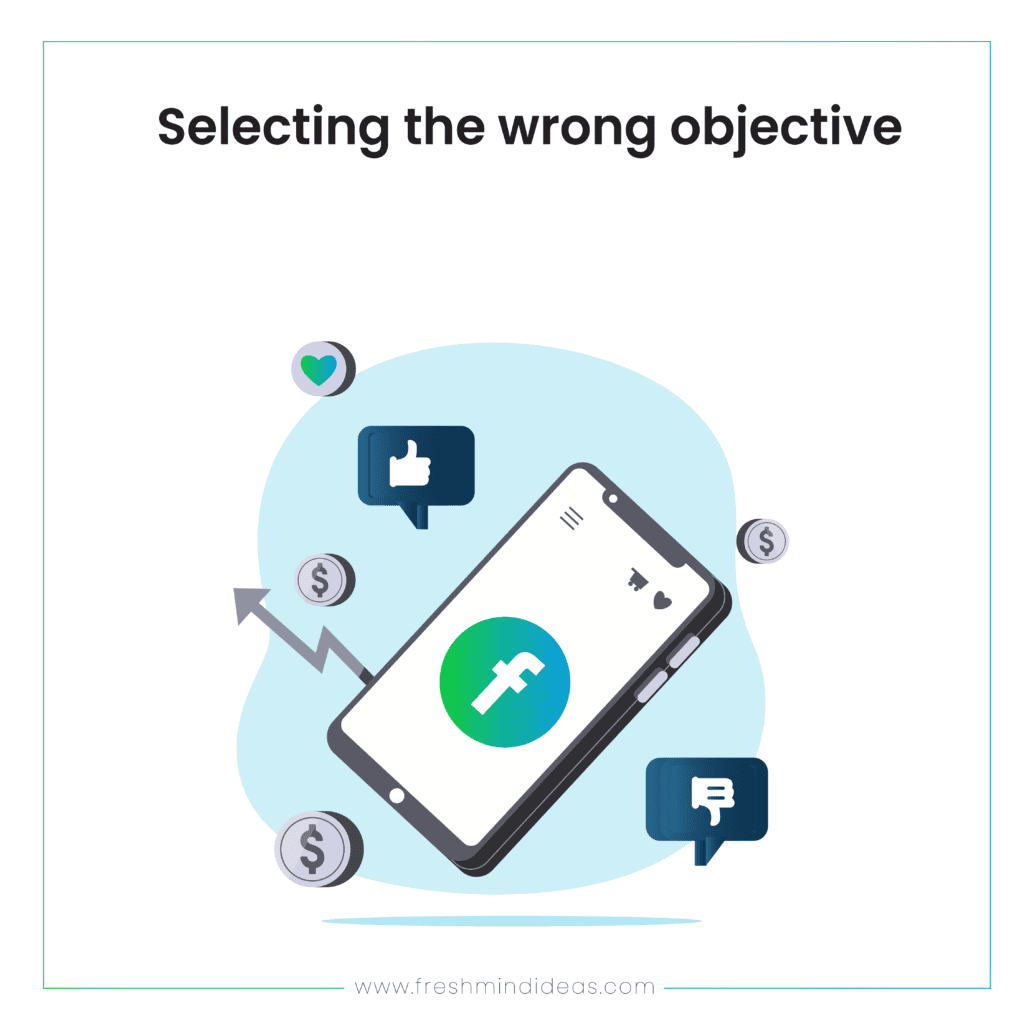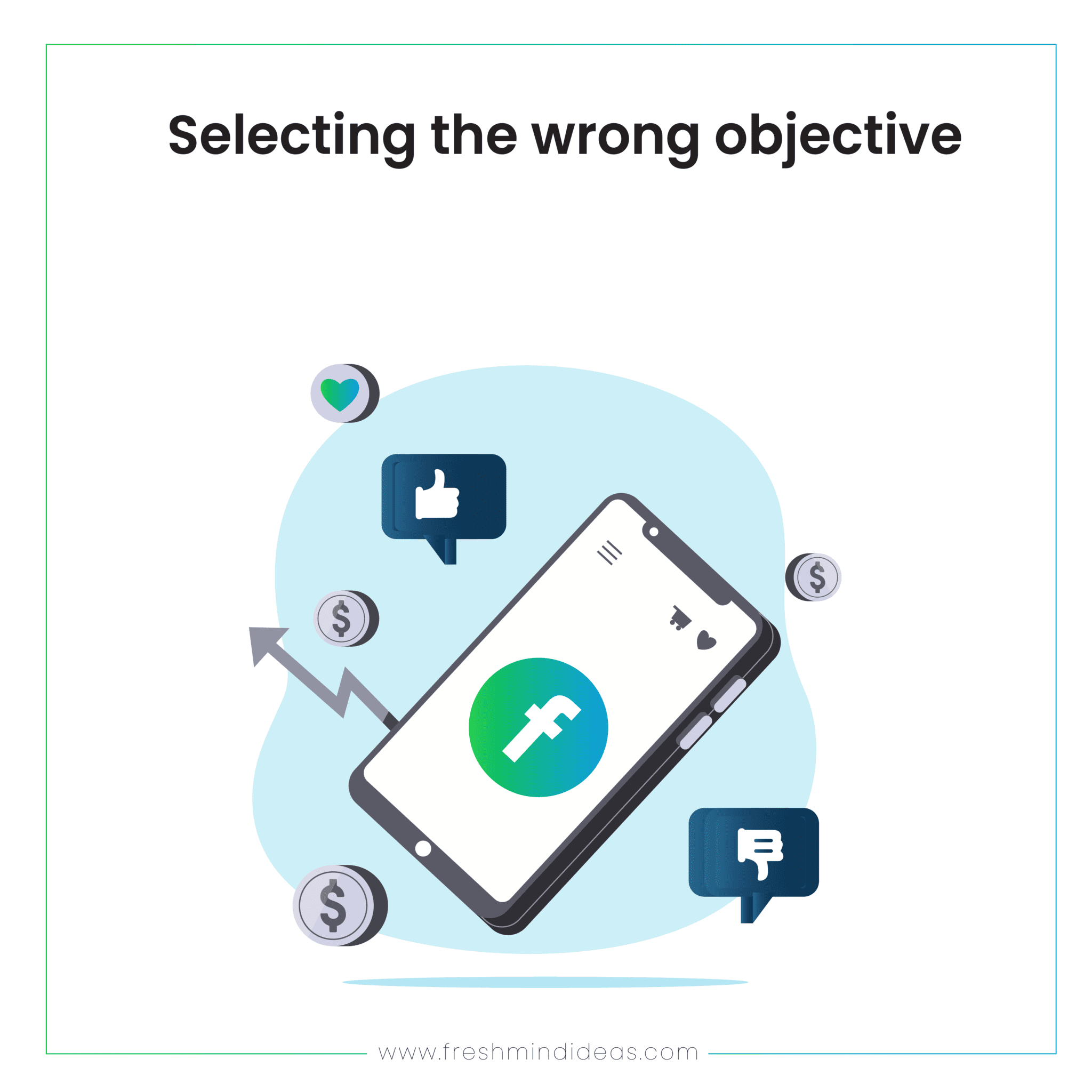 4. Creating Ineffective or Too Long Text Content
It is essential to remember that text content is a very crucial component of your Facebook ad. You could fail, even if your campaign has a clear objective, goal, etc.
Create engaging content that encourages your audience to take action. Knowing your buyer persona is the key to generating effective content. Try to deliver what your audience like to engage with. And adding a CTA that attracts the users will encourage them to take the desired action. Try to be little creative when adding CTA. Some include multiple CTAs in their ad, which is another mistake you should avoid. Make sure that your ad has one clear CTA.
Determining who you are targeting, what action they need to take, their interests, personalities, etc., is essential to creating compelling content. Keeping content between too long and too short is vital to consider. You can't keep your audience for a long time reading your content. And when you make it too brief, you may miss important information. So, make it in the perfect middle, crisp to the point.
5. Ignoring the Importance of Short Videos
Video ads are very powerful and can establish an enhanced online presence and grab the instant attention of your target audience. You can make the most out of it if you have done it effectively. It can drive more engagement, improve brand awareness, boost conversion, etc. Compared to text and images, videos can share information more effectively, and users find more value in visual elements that encourage them to take the desired action.
Short video ads are incredibly effective and can get the most engagement. Studies show that short ads can perform better. So, make it simple, snappy, and easy to digest. And you should make sure to place the most important content at the beginning of the video. Optimizing your video ads for Facebook on all devices is also essential. Nowadays, most Facebook visits are made through mobile phones. So, it is vital to make it appropriate for all devices, especially mobile phones.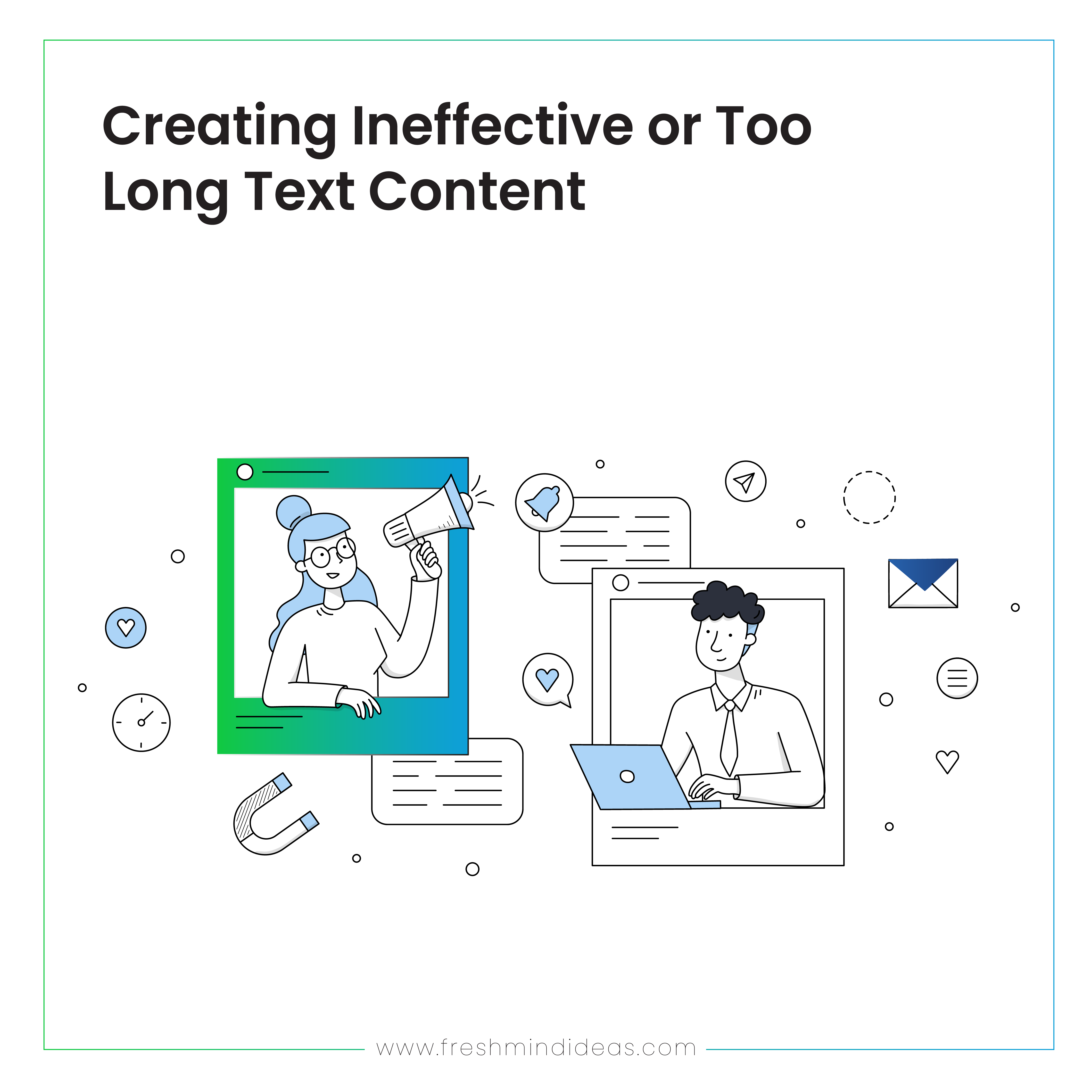 6. Not Refreshing Your Ad Creative
Seeing the same ad creative over and over again is really boring. Your audience gets tired of seeing it too many times, and they will most likely start ignoring your ads. Not making ad fatigue is really important to improve your results. By introducing new creatives at least every two weeks, you will get a better sense of what works and can improve your ad performance.
Ad fatigue also results in increasing costs without having any effect. If you are not refreshing your ad, you won't get an idea of what your audience is likely to prefer or what ad formats work the best. There are multiple ad formats you can make the most of, and this could include various styles of videos, carousels, single-image ads, etc. Simply take an ad format that has already proven to be working and try to remake it into a new style. You can also refresh your creatives by revising the copy, editing images, etc. Refreshing creatives help you improve results by reducing ad fatigue and decreasing costs.
7. Neglecting the Importance of A/B Testing
It is sometimes confusing to create an ad campaign based on assumptions. And understanding the perfect combination of copy, creative, ad targeting, etc., helps you generate efficient ads that will help you achieve your goals. A/B testing is a way to determine the effect of your ad by letting you change the elements such as creative, CTA, or audience. It compares two strategies and gives an insight into which performs the best. You can test images against images as well as text, call-to-action, etc.
For example, you can test a "shop now" call-to-action against a "learn more" call-to-action. And the A/B test lets you quickly compare both CTAs to see which performs better.
8. Linking to the Wrong Destination
Showing your ad to your target audience is not the purpose of creating an ad campaign. You want your audience to take the desired action, like making a purchase. So, directing your audience to the wrong destination is something you should avoid to not miss out on conversions.
Where you are sending your visitors after the click is really crucial. Directing visitors who are likely to take action to the home page is a mistake that marketers frequently make. It is vital to take your audience to the exact landing page that your ad offer. Many visitors do not show the patience to sit back and look for what you have promised in the ad. They would likely click away, and you are missing out on your conversions. If you are running a product ad campaign, make sure to direct your visitors to the exact product detail page.
The website or landing page loading time is also vital to consider. If your website or landing page takes too much time to load, you are going to lose so many visitors who are interested in what you offer but not ready to wait too long.
9. Failing to Lock the Right Budget
Defining a budget for your ad campaign is essential. Without a proper budget plan, you may end up spending a large amount of money on something that doesn't work. If your ads perform poorly, then try to find the issue. There is a tendency to make small changes without identifying the exact problem and spending extra money on it.
Fix a budget according to your objectives and goals. If you set a budget too high, you may spend the money quickly without getting any positive results, and if your budget is too low, you may ruin the chances of reaching out to your audience. So, try to spend money smartly. And invest in ads that perform really well. If ads aren't performing well, try to figure out the problem instead of spending some more on it and waiting.
10. Facebook Policy-Related Ad Mistakes
Getting your ads disapproved by Facebook is something you need to consider. Facebook has some ad policies that clearly say the ads you will not allow to run on the platform.
You are not allowed to advertise prohibited or restricted content in your ad. Facebook disapproves your ad if it contains sexual exploitation, illegal drugs, weapons, sensational or controversial content, and much more. Facebook also considers the user experience. If you are linking a non-functional landing page or a landing page that doesn't match with what you offer in your ad also gets disapproved by Facebook. You need to make sure to add high-quality and original content. And another thing is that don't use 'Facebook' in your ad. Facebook doesn't want any partnerships with brands.
There is so much more you should be aware of and consider before launching an ad campaign. Your ads can get rejected if you don't adhere to Facebook's ad policies. Bigger violations could even get your ad account banned.
Make the Most with Your Facebook Ads
So, here we are. When you do it effectively, your Facebook ads can deliver wonders. And you need to take the extra step to ensure the effectiveness of your ad campaign and achieve the success you dreamed of. Creating a perfect and comprehensive ad strategy is a lot of effort, and if you don't have a potent ad campaign, you are wasting time and money on the table. So, try to do it smartly and ensure you get closer to your business goals. You can consult a digital marketing agency in Bangalore that specializes in building PPC services.
Do you need help with your branding/ marketing/ Web development/ animated videos? Get in touch