Here at Fresh Mind Ideas, a leading branding agency in India we know it can feel next to impossible to balance your company's public image effectively while bouncing back from a weak financial quarter. That's why we're here to help! We're a strategic branding, digital marketing, web design, and UI/UX design agency based in Bangalore, India. We take a custom approach for each of our clients, to reach your audience, draw traffic, and convert more clients than ever before! We tackle each of your most far-fetched digital marketing projects and campaigns, so your internal team can spend time on other important growth opportunities!
How do we become the leading branding agency in India?
In recognition of our success and dedication, we've been listed as a top branding partner by The Manifest, a business data and how-to guide resource. Their platform allows you to connect with leading companies after seeing how each one stacks up against key industry metrics.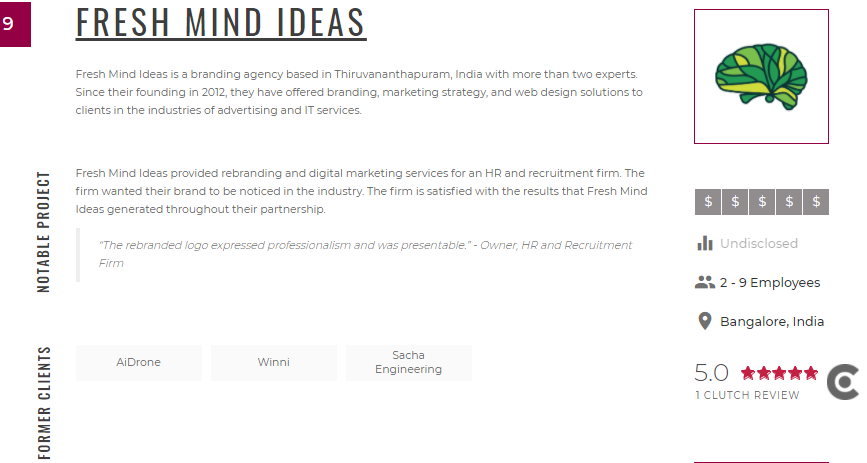 Another place where you can learn about our work is via Clutch, a B2B ratings and reviews platform. They leverage a one-of-a-kind ranking formula to compare and contrast frontrunners in the B2B services space. Clutch's work helps interested parties pair with their dream service providers to fill their latest business needs.
Client reception plays a huge role in the Clutch research process. Past and present clients are asked to leave honest remarks about their vendor's performance in a fifteen-minute interview call. There, they grade the services based on quality, attention to project timelines, project management acumen, fairness of pricing, and overall ability to drive results. Next, the Clutch team transcribes and edits that transcript for clarity and length. Finally, a finished case study like a review is published to the vendor profile.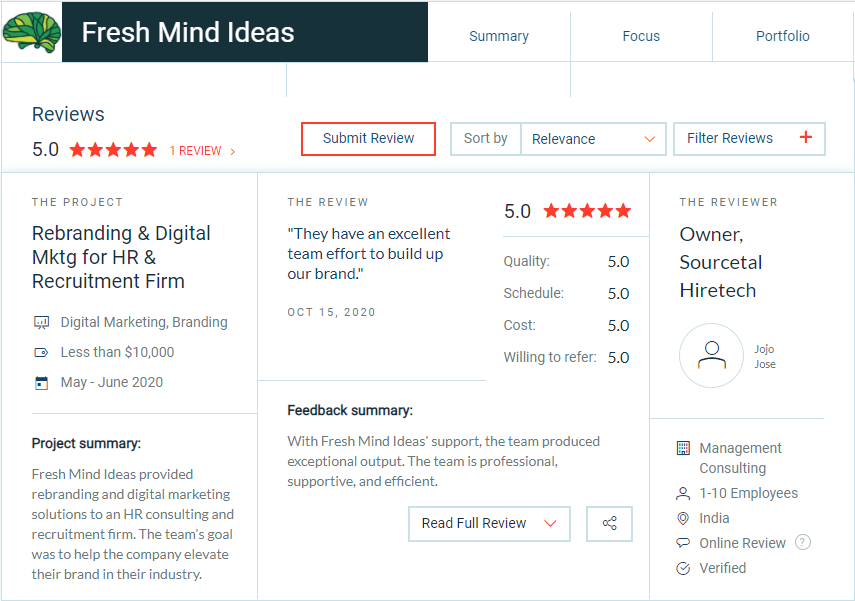 We truly value what our clients think about our work at Fresh Mind Ideas! As the best branding agency in Kerala, it helps us understand where our strengths are and which processes we should consider phasing out. We appreciate Clutch reviews because they offer such comprehensive client feedback in an organized way. Vendors can read reviews left on their profile and learn valuable areas of success from their client's perspective, as well as identify key areas for growth and improvement. As an added bonus, potential clients just need to check out their vendor candidate's Clutch profile to see how well they've performed in similar projects in the past. 
Interested in learning more about how Fresh Mind Ideas, a top branding agency in Kerala can help your business build for a better tomorrow? Contact us today and we'd be happy to walk you through a custom plan aimed at your specific needs. 
Location :
Bangalore
5th Floor, Tower D,
Frontage Walking Diamond District,
HAL Road, Domlur,
Bengaluru, Karnataka 560008
Phone: +91 96 333 492 36
Kerala
G3B, Thejaswini, Technopark Rd,
Technopark Campus, Thiruvananthapuram,
Trivandrum, Kerala 69558
Phone: +91 96 333 492 36